Outdoor life is becoming a norm today, with real estate companies and property owners claiming high demand for houses with Pergolas or Gazebos.
While enjoying the outdoor, cold is a major concern in the pergola. That's why most people want to know if they can add a fire pit to warm themselves up.
I highly recommend the Kosher Bio Ethanol Tabletop Fireplace Ceramic Bowl (links to Amazon), I love it because it's clean burning and easy to use 🙂
Easy to use
Clean burning
No fuel required
An outdoor centerpiece

So can a fire pit go under a pergola? Yes, a pergola can have a fire pit as long as it's well-constructed and maintains a distance with the furniture and other inflammable fittings of the pergola. Certain pergola roofs that will allow smoke to ascend into the sky is also recommended.
Recommended Fire Pits for Pergola 2020 – 2023
Optimized safety
Assemble in 20 minutes
Centerpiece for outdoor fun
Durable and sturdy
Enables smooth airflow

---
SereneLife Outdoor Ignition Propane Gas Fire Table Tabletop
Environment safe (CSA approved)
Assemble in 20 minutes
Made to last long
Concealed Propane tank

So what's a Pergola?
A pergola is usually made of crossing beans that are supported by pillars and no sidewalls. Staying by the fireside on a wonderful sunset, at night watching the stars, or dawn during sunrise with a loved one or family, is a wonderful experience.
Sitting around a fire is wonderful, it makes the night short especially with friends or family with storytelling sessions or participating games.
Fires are also used for decorative purposes: the glow and warmth fire produce give a comforting feeling especially with the cracking of wood.
Does not play with fire, fire will burn you; is a childhood proverb I have cringed to since. Man's biggest invention is that of fire, which has helped him to warm his food, his house and also scare away enemies.
Despite the many advantages of fire, it can result in losses and destruction of property if left unmonitored.
In some states especially, those that are densely populated or have frequent occurrences of forest fires it is a requirement to notify the insurance company of the possession of a fire pit in your backyard.
Some considerations need to be made when deciding to put a fire pit under a pergola, for example, if the fire pit is to be installed in an existing pergola or they are being installed together.
This means that the dimensions can be set by the contractor according to fire pit installation regulations in new pergolas, unlike existing ones.
Permanently fixed fire pits
Source: Solus Decor
Permanently fixed fire pits are integrated with the structure, this needs a lot of consideration to put up in a place as their color hue must match the pergola.
Permanent fire pits come in a prefabricated form that is ready-made and custom fire pits, which can be designed by your architect according to your needs.
Natural gas fire pits tend to be more permanent because they are connected to the mains.
Portable fire pits
They are not installed in the original makeover of the room; they can be moved from place to place. They are mostly made of copper, clay, cast iron or steel. They mostly use propane or wood to provide heat.
Types of fire Pits 
1). Propane fueled fire pit
SereneLife Outdoor Ignition Propane Gas Fire Table Tabletop
Environment safe (CSA approved)
Assemble in 20 minutes
Made to last long
Concealed Propane tank

Most modern fire pits run on propane to provide heating. They are the recommended fire pits to use because they burn effectively leaving no soot. They are also less hazardous as they do not produce any sparks that can ignite materials and cause a fire.
2). Wood-stocked fire pit
Durable design
Amazing relaxation
Easy to set up
Complete Fire Pit kit

A majority of archaic fire pits run on wood, some homeowners who want to experience cracking fire stock their fire pits using wood.
They tend to be more hazardous and smokier in case of wet logs or poor choice of logs.
Consider hardwood trees logs that have been seasoned for at least 5 months. Softwoods tend to produce sparks and might course fire.
They offer a near-camping experience.
Wood stocked fire pits exist in different varieties made of either marble, steel or other materials.
3). Gel fire pit
JHY DESIGN Tabletop Fire Bowl Pot Indoor/Outdoor Portable Tabletop Fireplace
Smokeless, Odorless, Clean
Easy and economical
Real flame with no melting wax
Modern design

It uses gel to provide heat and light. They do not produce smoke thus can fit in nearly every outdoor space.
Gel fuel is refilled every once in a while, to prevent the fire pit from going off, although it does not offer much heat as compared to the wooden and natural gas counterparts.
4). Natural gas fire pits
They resemble the propane fire pits. The only difference is they are connected permanently to the gas mains. They tend to be more permanently fixed but are cheap and easy to operate.
Places where you cannot light a pergola fire
i). Crowded places: Never attempt to light a fire in a crowded place, either because of little space or many people moving about.
ii). Near a window: You cannot light a fire especially using wood if your pergola is located adjacent to a window. The smoke might get into the room making the inhabitants uncomfortable.
The following factors should be taken into consideration when installing a fire pit in your pergola.
Pergola height
For already constructed pergola you need to find out whether its height can stand the heat and embers that might raise high above, considering the conventional movement of current.
A low-lying pergola is a fire hazard and can also lead to scorching of the paints on the poles and of the climbing plants.
The heat from the fire will gradually peel the paint from your pergolas ceiling or poles making them discolor, soot may also accumulate on the ceiling. This can be controlled by setting the pergola roof high enough with the right ventilation.
Ensure that you check your state's regulation on minimum pergola height to avoid trouble with the authorities.
Flooring 
When selecting a fire pit for your pergola careful consideration needs to be placed on the materials used to make the floor.
Wooden and other combustible floors are not compatible with certain types of fire pits. Materials like stone, bricks, and concrete are the best for the floor.
Where you are installing a fire pit in already existing wooden flooring consider using a fireplace screen on your fire pit. You can also erect a stone or concrete barrier around the fire.
Ventilation
Ventilation is not an issue when talking of pergolas, but it is a necessity to ensure that your structure is located in an area with good air circulation.
This prevents the accumulation of smoke that might discolor the paints, although, it is advised to use darker shades for wood-stocked fire pits.
The pergola should be located in an open area free from overhanging tree branches or other flammable substances.
Location of fire pit 
The location of the fire pit will depend on your state's regulations, on the distance and width of outdoor structures and the distance from the main house.
A fire pit should be placed after considering the wind direction to reduce the accumulation of smoke.
A fire pit should be located at a safe distance from the boundary line and the main house, do not light a fire under overhanging branches or fence.
Furniture 
Ensure that all pieces are located a safe distance from a fire pit, this will ensure that no one gets at risk of stumbling into the fire. It recommended that you permanently fix the furniture or use heavy chairs that will prove heavy to pull.
The materials used should not catch fire easily. Sofas and pillows should be discouraged near a fire pit as they may be potential fire risks.
Pergola furniture located a safe distance from fire.
Fireplace screen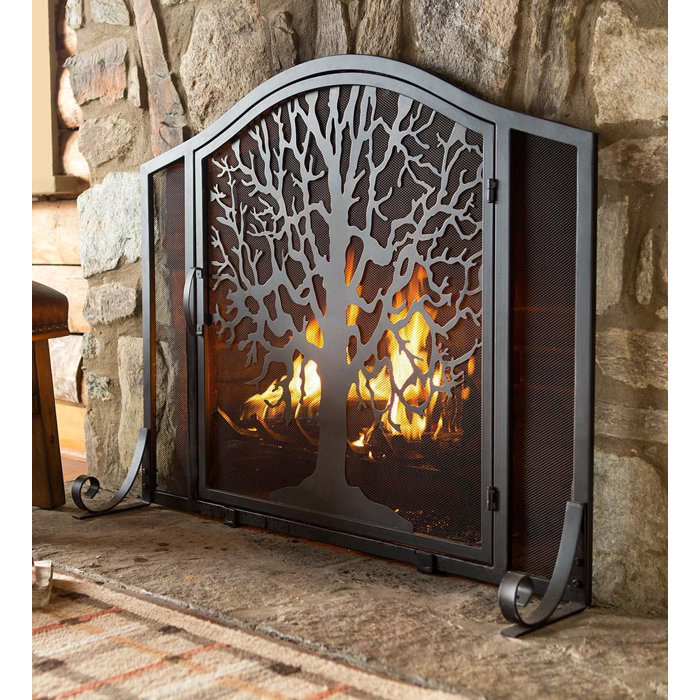 Invest in a fire screen for the fireplace, it blocks stray sparks from spreading, it also protects children and pets from the naked flame.
A large percentage of fires are caused by stray fires, therefore, it is important to have a fire screen.
Other factors that may require a fireplace screen is having a wooden or carpeted floor in your pergola that can easily catch fire. Fire screens come in various designs that you can choose from.
Fireplace screens are useful when no one is supervising the fire for example when you are busy reading a book and may prevent a stray object from falling into the fire.
It can also be used to cover the fire pit when it is not in use. They will also reduce the amount of heat reaching you in case it gets too hot.
Fire safety tips 
Confirm with the authorities on the regulations governing outdoor fires and the structural requirements of a structure that can hold such fire.
Do not use gasoline or any flammable liquids, or plastics to light fires; they contain harmful fumes that are poisonous.
Prefer to use hardwood trees as they do not spark as compared to softwood that is a fire threat.
Always have a fire extinguisher, water, a fire blanket or a water hose nearby in case of any fires.
Avoid loose flammable clothes especially nylon made clothes.
Observe the wind direction and strength before lighting a fire.
Place portable fire pits on a stable ground.
Place children and pets away from open flames, or supervise them when they are near the fire.
Maintain a small flame; the main purpose of the fire is heating not lighting, therefore, it is important to keep it low to avoid chances of stray flame spreading.
Choose the design of your fire pit wisely depending on the design and your heating needs. It should integrate with the existing features.
Read the user manual of your fire pit for prefabricated ones and ensure that you meet all the requirements.
Carefully dispose of ashes after ensuring that it has cooled off completely. Fire regulations state that you put the ashes in iron or clay container and sprinkle water awaiting disposal.
How to light a fire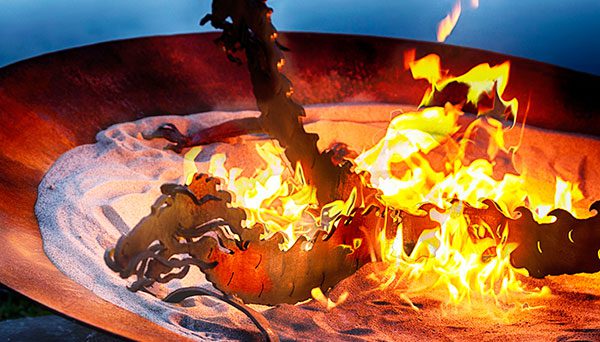 Some fire pits that run on propane or natural gas have automatic lighters that ignite on turning a knob, for wood you have to light it up yourself.
Using the old newspaper and small twigs light up a small fire inside your fire pit, feed the flame with twigs, gradually adding larger logs until they are all lit. Do not attempt to use any flammable liquids to start a fire.
How to put off a fire 
Remove the burning logs and spread ash or soil on the fire and leave it for a while, then sprinkle some water over the fire, taking care not to burn yourself. Ensure that the fire is put off completely.
Properly dispose of the ashes by putting them in an iron or clay container for disposal.
Fire emergency 
In case of a fire breakout, switch off all the gas connections and call 911 for emergency services.
Always remember to have a fire extinguisher by your side, a bucket of water or hose comes at hand in this situation.
Do not attempt to put out a gas fire while the gas is still on.
A fire blanket or cold wood ash can be spread over the burning area, it cuts off oxygen supply cooling off the fire. When using the fire extinguisher ensure that you spray at the base of the fire.
Is it safe to have fire pit under a Pergola? 
Yes, a fire pit can go under a pergola provided you meet all the required fire standards in your state.
In some states, it's illegal to build a fire pit either indoors or outdoors, as a safety mechanism.
On the conservative side, burning releases smoke to the air that might be harmful to you and the environment. Hardwood trees are also expensive to purchase than your monthly gas bill. It is good to consider using gas instead of wood.
Wood stocked fire pits are more prone to danger; therefore, the following measures should be taken in place.
Ensure that the pergola height is high enough such that sparks and radiant heat will not reach it and cause fires or peeling of the paint.
You should use concrete, stones, and bricks for the floor or areas around the fire pit for the pergolas floor. Materials like wood can catch fire easily and are therefore not useful.
The location of your pergola will also determine whether you can add a fire pit or not, ensure that you meet both the manufacturers and your state's rules on positioning fire pits inside pergolas.
Ensure that your fire pit is located in a well-ventilated space, where there is no accumulation of smoke for the comfort of the inhabitants.
Permanently fix or use heavy chairs for your fireplace, this will ensure that everyone stays at a safe distance from the fire.
Final thoughts
Use your fireplace screen on your fire pit to minimize any chances of fire spreading. Prevention is better than cure.
Never be in a hurry to put out a fire when you are finally done with it, a small flicker can regenerate a huge inferno especially because it is located outside due to the wind.
Use water to sprinkle over the ashes until it is off.